What is Deep Tissue Massage?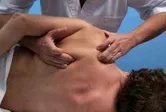 Deep tissue Medical Massage at Joseph Miller Chiropractic helps to restore balance, injured fiberous tissues can cause chronic joint and muscle pain, poor posture and coordination, as well as a plethora of other health ailments.
Deep muscle therapy aims to relieve the chronic tension throughout the muscles and fiberous tissues within the body. It is known to greatly increase flexibility and range of motion, and its also known to greatly improve posture and restore the body's natural harmony.
Although the techniques used by deep muscle therapy practitioners are very similar to Swedish massage, the strokes are applied with more pressure in order to stimulate the deeper muscles and surrounding tissues. By penetrating into deeper layers of muscles and tissues of the body, deep tissue massage restores the length and flexibility to the fascia (the fiberous tissue that surrounds the muscles and organs), by normalizing the tissue and by improving the strength and overall health of the entire fascial system (connective tissues throughout the entire body). When a practitioner performs deep muscle therapy on a client they also aim to encourage the lymphatic and circulatory systems. This promotes the release of hazardous toxins in the body, and it also encourages the body to repair any damaged cells. Deep muscle therapy helps speed up healing of minor muscle strains and connective tissue injuries by flushing inflammation, reducing scar tissue build up, restoring/maintaining full range of motion, in addition to helping soothe more serious muscle conditions - such as Multiple Sclerosis, Parkinsons disease and even to lessen the symptoms associated with Muscular Dystrophy
A therapy such as deep tissue therapy depends largely on client-therapist trust. This is because deep tissue therapy is often uncomfortable, compared to a traditional relaxation style of massage (Swedish massage), and the therapist will only massage as deeply as the client is comfortable with. Although having a deep connective tissue massage shouldn't cause you any pain, it's often less relaxing and less comfortable then a traditional Swedish massage. Most practitioners ask that their clients tell them immediately if the stroke pressure is too intense and the client must keep their massage therapist informed of their pain tolerance at all times during the session
During a session, the massage therapist will focus on releasing tension from the deeper tissue structures of the muscle and fascia (or connective tissues) with deep, intense strokes. When a therapist locates a chronic "knot" (also referred to as an adhesion), they will often recommend that a client adapt a lifestyle change. A Registered Massage Therapist has in depth knowledge of the human anatomy. The specific muscle is identified by its origin, insertion and action. Therefore, the therapist can help the client identify what it is that they may be doing to cause a specific muscle tension. The client can then begin to stop or modify the aggravating action and the therapist may include exercises to help improve posture, balance, movement, and relaxation. These steps are complementary and considered part of deep connective tissue massage session.